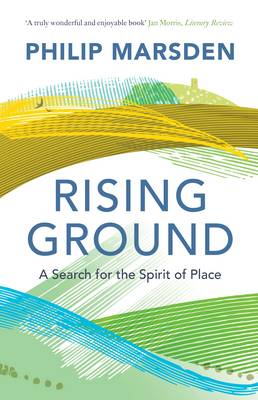 Last updated: 29 May 2018
Updates: The summer isles: a voyage of the imagination (Amazon; Caught by the River | Books from Scotland | Gdn | interview | Travel Writing World; more)
I have bookshelves groaning with travel literature shelved by place. This includes Philip Marsden's The crossing place (1993, Armenia), The Bronski house (1995, Poland; not to be confused with, although sitting next to, Radek Sikorski's The Polish house) and The spirit wrestlers (1998, Russia). After that things gradually went boat-shaped for Philip, culminating in him buying Ardevora, a farmhouse on the banks of the River Fal. Rising ground: a search for the spirit of place (2014; extract) sees him return home to write about Cornwall.
Marsden describes the reasons for this shift from travel to place: "Getting a bit older perhaps, having a young family, being a little less restless. But more than that is the sense that looking deeper into the local is ultimately more revealing than reaching for the exotic". And it was never just about the travel. "I have written travel books certainly, but have come to each subject fresh – explored it, researched it, teased it out and tried to unravel its attraction. Only then do I assemble the form that it requires to tell."
But Rising ground is not just about place. It's also about a journey westwards, tracking earlier 'topophiles' of the region such as John Leland, the father of topography, the first to write about people and their relationship with the physical aspects of the landscape, a roving antiquary who suffered a breakdown under the weight of knowledge he had amassed. And John Whitaker, who unlike the 'crag-happy' Romantic poets of his era felt that places should be examined to reveal the past, not the picturesque. (It's quite distressing how many of these early writers of place came to a sorry end. Charles Henderson, who read the landscape like a palimpsest, layered with the text of former lives, died in Rome on his honeymoon at the age of 33, while John Blight, author of A week at the Land's End, was confined to an asylum for 40 years, dying there in 1911.)
Marsden himself grew up on the edge of the Mendips, where as a child he explored Aveline's Hole, a 10,000 year old cave cemetery. Revisiting "fuses childhood wonder and adult knowledge, both of which originate in the universal drive to make sense of the world through an understanding of place…a need to belong".
The second chapter introduces Ardevora as character, run-down with malfunctioning pipework: "knowing a little of the past brought with it the first sense of belonging". In intervals between house renovations he explores thinking around space and place, starting with Heidegger's Building Dwelling Thinking (1954):
'Dwelling' meant much more than just living in a house. It described a way of being in the world. In Old English and High German the word buan – meaning both 'building' and 'to dwell' – is linked to the verb 'to be'. So to be is 'to be in a place'. Only by knowing our surroundings, being aware of topography and the past, can we live what Heidegger deems an 'authentic' existence…

'Place' is somewhere distinctive, where people react to and live with the particular topography around them, whereas 'space' is an idealised location, abstracted from the real world, a template which can be dropped over any point on the earth's surface and allow meaningful discourse about it…

Physical surroundings (places) have the capacity to create mythologies around them…[but] every topophile knows that some sites are better than others – not just prettier or more dramatic, but endowed with a certain quality that attracts to it a host of stories and ideas.
All this inspires him to compose a topophile's history of Cornwall, following the axes of time and place on foot to Land's End in a chronology spanning the ritual landscape of Neolithic times, the Middle Ages and the Enlightenment and on to the 20th century.
In Tintagel he probes Geoffrey of Monmouth's telling of the Arthurian legend, with the castle perhaps the product of "suggestive topography" where idea and place became intertwined in stories which "bounce down through the centuries, their edges rounding and their shape altering with the collective spirit of each age". Geoffrey drew on the tradition of the locus amoenus or delightful place, in medieval polarity with the hostile wilderness, defined as comprising a tree (or several trees), a meadow, a spring or brook, possibly with birdsong. "The most elaborate examples add a breeze". Often asserting a collective sense of belonging, with a recurring motif of a sense of enclosure or encirclement.
Returning to the Mendips as his parents sell his childhood home he walks to Glastonbury, whose tor was a constant presence in his childhood. The mythic heart of England, the town was a one-stop pilgrimage site reducing the idea of earthly sanctity and of the nation to a single place, until it was sacked under Henry VIII during the Dissolution of the Monasteries, as universalism took the place of local cultism.
Visiting his parents' house for the last time he finds only "hollows and imprints" of his family's presence, "the memories of the place separated from the place itself". Lying in bed in Ardevora he hears the iron casing of the stove cooling down with a clicking sound, creaking like an old ship, settling down again and getting used to its refit, coming back to life.
The walk westwards is "like walking the plank". In West Penwith, the "end of the end-end" in Welsh, the ages are rolled into one in a post-modernist bundle. Nearing the coast the land becomes more marginal. Many feel an altered perception as they reach Land's End: "We began to feel that we could walk like this for ever, never having to turn back but always going on, to see what was round the next headland, and the next".
In pre-Christian Europe there was a belief that when the sun dropped below the horizon it went on to shine on the realm of the dead. This makes a walk to Land's End a "rehearsal for the last perilous journey, or perhaps the realm of the future and the time beyond our own death". Topography gradually seeped into popular consciousness, going beyond the local (what you can see) to the map or plan, an abstracted version of space which creates its own imperatives.
Beyond Land's End lies Lynonesse, embodying a sense of loss, of that "vanished era when everything was larger and better", a locus amoenus which goes one step further with the addition of Tennyson's King Arthur. The mountain that rose from the land was called Camelot, where "save the Isles of Scilly, all is now wild sea", the site of Arthur's last day on earth. Mortally wounded, Arthur is carried out to the land's end, where a barge takes him away into the western ocean.
As for the Isles of Scilly, "like all the best places, [it] draws you into a state of ceaseless questioning…the reduced scale brings questions closer, and adds a heady combination of freedom and isolation".
To return to the theme of travel vs place, there's a a sense that all place writing is travel writing, as any book about 'place' to a degree moves through the land. And a journey offers a familiar narrative structure, with walking in particular giving "the slow pace with which to be fully attentive, to notice". Where place writing differs from conventional travel writing is in the deep mapping required to exhaust a place – in a travel book both reader and writer see a place for the first time, as a tabula rasa, and then move on, without building a permanent relationship. Rising ground is about what makes certain places special and about our fundamental response to landscape, whether personal or collective, cultural places which have accrued meaning and stories.
Our reaction to places, to certain landscapes, lies at the heart of both our personal lives and our collective lives, our culture and traditions…It is us who imbue it with spirit and meaning…Something in our make-up drives us to animate the world around us, to fill it with significance.
Globalisation, with the accompanying increased pace of life and communication, is affecting our relationship to place. It is getting more and more difficult to build and maintain connections with a place (aka the local, home) – perhaps one reason for the current boom in place writing, a given genre in English, with its own prize (the Wainwright). How much is this a British thing, built on a melancholic sense of genius loci developed over generations?
Place writing is not much found in Denmark. Having pondered long on why, I wonder if it is partly down to the fact that in a small, homogeneous, essentially inward-looking country there is a lot less moving about, hence less need to find a place or to make it anew in order to belong. This must affect the Danes' relationship with place – and be indicative of how it can present an issue for the outsider.
The sense of a need to belong to a place is rather less resonant here, with the Danish sense of national identity perhaps taking its 'place'. There's also a dominant narrative about people, when I can't help thinking they protest too much – no one reading about Jack Clemo (who raged against his physical impediments, against nature-lovers and the sentimental, against chapel-goers, and derived a perverse pleasure from devastation) in Rising ground could be in any doubt that place writing is as much about people and their stories as it is about the landscapes and buildings they inhabit.
Sources: The Clearing | Granta Books | Guardian | Ramblings | Start the Week (why we react so strongly to some places, look for meaning in them and build up stories about them over time; what makes a landscape (eg a particular site), essentially a blank canvas (space?), significant? three cases: Tintagel, Glasto, Cornwall (the shape?); a sense of place, rootedness, magical places, wandering…communities create maps to create a sense of belonging…)
Some leftover notes from the extract:
the effect that physical surroundings have on individuals and communities can be direct or symbolic and mythologised, as in the persistence of a lost homeland
the difference between 'place' and 'space' (p29-30): place is somewhere distinctive, where people react to and live with the particular topography around them, while space is an idealised location, absolute, unlimited and universal; a stress on the latter has led to the "abiding sameness which characterises contemporary life" and "an insensitivity to the significance of place"
space as the absolute, unlimited and universal, place the particular, the limited, the local and the bound (Escobar, 2001)
the long-term emphasis on space has led to monoculture in farming, homogeneous housing, duplicated shopping malls and the destruction of habitats – the abiding sameness that characterises contemporary life (vs Somewhere vs Anywhere), the result of insensitivity to the significance of place (Relph, 1976)